SMART HOME SOUNDBAR WITH WIRELESS SUBWOOFER -B8
The Edifier B8 soundbar home theatre system brings dynamic cinema experience right into your
homes. An upgrade to the Cinesound B7, this latest addition to the Edifier soundbar range is designed
with high strength composite materials that minimize acoustic resonance and feature the latest in digital technology. It also comes with an MDF enclosed subwoofer.
Enjoy movies, music and other audio entertainment formats with this stunning soundbar home theatre
system.

High Power Digital Amplifier
Who says the soundbar has to be big to sound big? Our B8 speaker uses a total of three Texas Instruments digital power amplifier chips TAS5754M (The soundbar uses two and the subwoofer uses one), the continuous undistorted power of the speaker reaches up to 12W×2 for high pitch, 30W×2 for medium and low pitch, and 70W for the subwoofer. It is powerful enough to give you a deep bass sound feeling.

Professional High Specification Acoustic Configuration
The soundbar adopts two silk membrane tweeters and four aluminium diaphragm mid-woofer units. The magnetic steel is all made of NdFeB, and its high flux density guarantees high sound quality. Other than display the current sound source, volume level, and sound field mode, the digital screen can also serve as the visual focus of the entire soundbar.
Elevate Your TV Sound
25mm silk treble unit and 2 3/4″ (70mm) aluminum diaphragm mid-range unit provides an outstanding dynamic response. With the design of a double inverted tube, the mid-low frequency performance is strong and impressive. It definitely will make a huge difference in the sound quality of your television.
Remote Control Combined with Digital Display
Professional remote control combined with the digital screen display on the soundbar, make all the states at a glance, easy to boot standby, adjust the volume, choose the audio source and switch mode, add to the convenience when using it.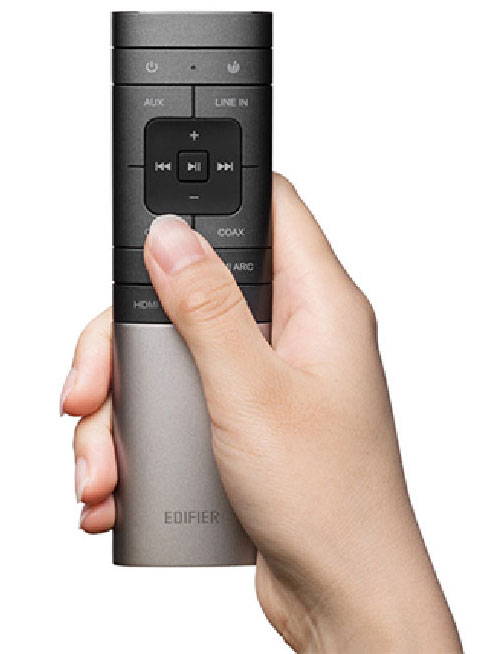 Multiple Inputs, More Application Scenarios
As a home entertainment center, it is natural to want to be able to connect more playback devices. In addition to the standard wireless Bluetooth connection, it also has 7-channel digital and analog wired input, these all designed for more application scenarios.
Modern and Stylish Appearance
Metal mesh cover, classic triangular design, and rounded curve reveal a fashion breath, combined with any large flat-panel TVs above 55 inches, easily integrates into the home.
FEATURES
154watt power output.
Smart home, multi-function soundbar with wireless subwoofer.
Certified Works with Alexa, inter-operable true voice control with Amazon Alexa devices.
App-based multi-room music distribution.
App-based music services including Spotify, iHeart Radio, TuneIn etc.
1" silk dome tweeter and dual 2¾"mid-range drivers for both left and right sections.
Wireless subwoofer with 8" long throw driver unit.
Digital amplifier with DSP based electronic crossover and dynamic range control.
Qualcomm® Bluetooth V5.0 chipset.
Built-in HDMI 1.4b repeater offers 2 inputs and 1 output.
Support HDMI CEC and ARC functionalities.
Specifications
POWER OUTPUT: R/L (Treble): 12W + 12W; R/L (Mid-range): 30W + 30W; SW: 70W
SIGNAL TO NOISE RATIO: ≤25dB (A)
FREQUENCY RESPONSE: 45Hz – 20KHz
INPUT TYPE: AUX/Line in/Optical/Coaxial/HDMI/RAC line
INPUT SENSITIVITY: AUX input: R/L: 400±50mV; SW: 320±20mV Line in input: R/L: 600±50mV; SW: 500±20mV OPT/COX input: R/L: 350±50mFFs; SW: 250±20mFFs
BASE: 8 inch (210mm)
MID RANGE: 2 ¾ inch (70mm)
TWEETER UNIT: Φ25mm silk done tweeter
BLUETOOTH PROFILE: R/L: 450±50mFFs; SW: 370±20mFFs
DIMENSIONS: 1115mm x 325mm x 510mm x 15kg